RTA Cabinet Reviews Reviews IBS and KBIS 2019
Rhino A, 5 years ago
0
8 min

read
4338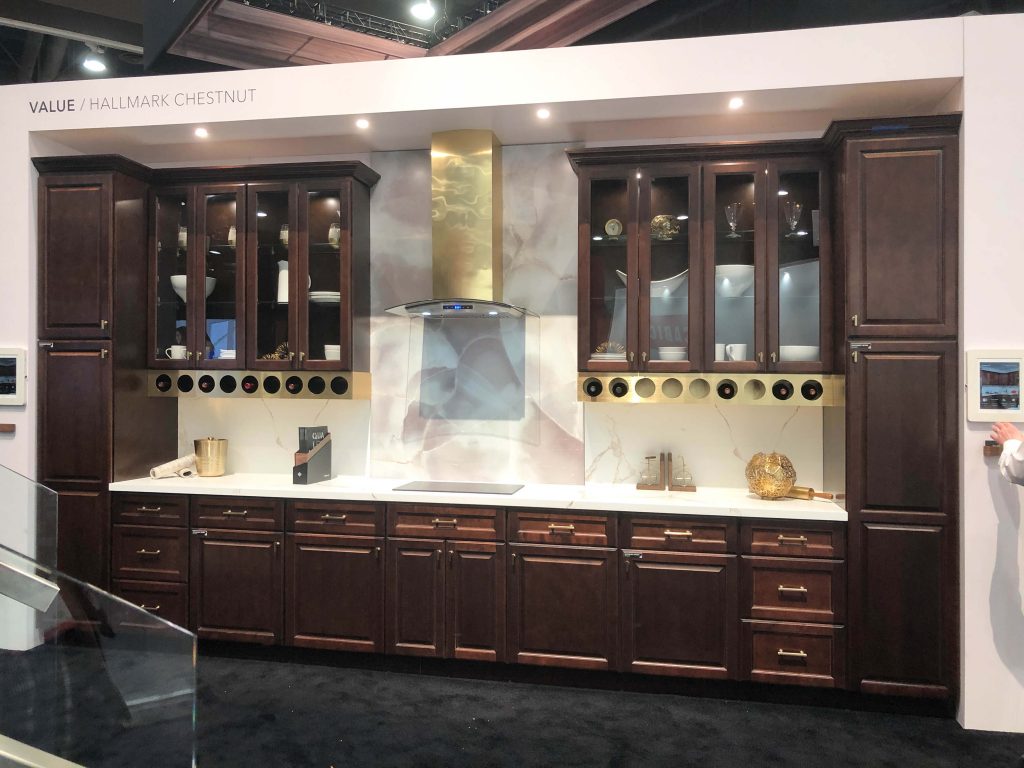 The International Builders Show and the Kitchen and Bath Industry Show are combined to form one of the biggest trade shows in the world, known as Design and Construction Week! So of course, it's the perfect time for RTA Cabinet Reviews to check out what's new, trending and which cabinet companies stood out in 2019 at the Las Vegas Convention Center!
New and Trending:
Handleless Cabinets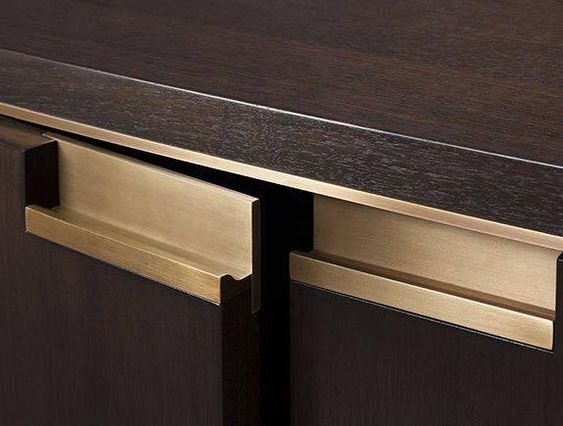 While cabinet doors without handles are nothing new, the method often relied on pressing against a cabinet door to unlatch the mechanism or magnet to pop the door open. However, "handleless" refers to a specific way of shortening the cabinet door and creating a lip so that the edge of the door panel itself acts as a handle and eliminates the need for a handle on the door's surface.
We saw an example of this at Golden Home Cabinets, where they displayed a couple of stripped-down floor cabinets, showing how the insides of the cabinets worked and one of them had a handleless design which was very easy to use.
Various shades of blue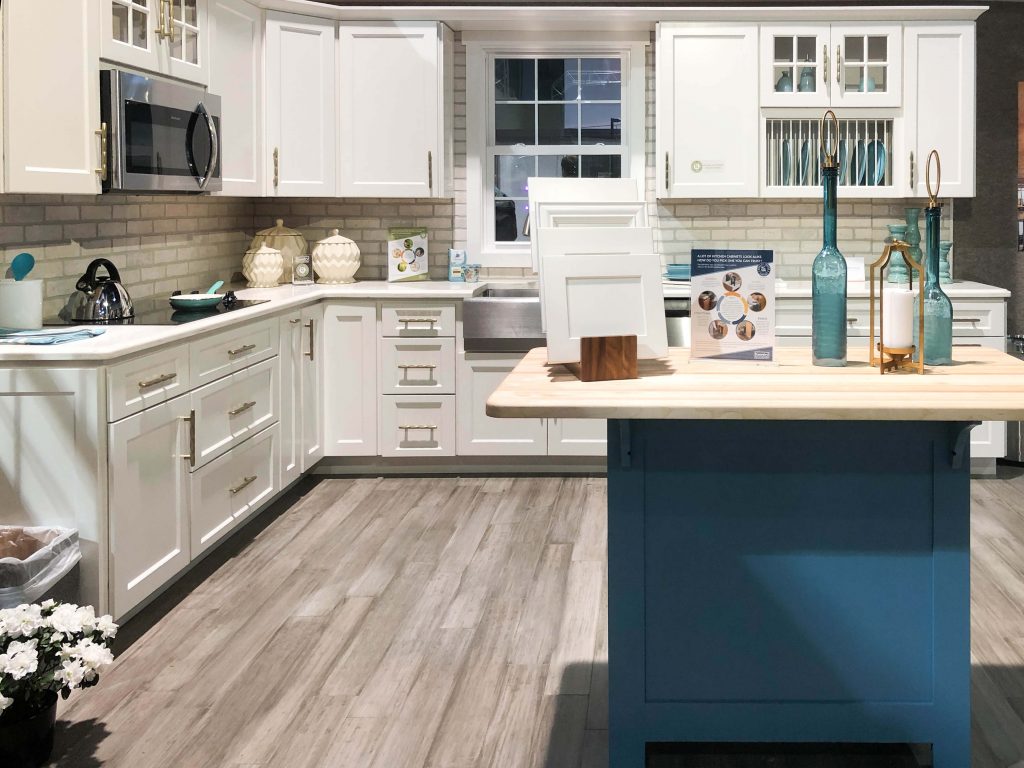 Navy blue has been the trend in kitchens since the end of last year and we are continuing to see this color dominate in many cabinets. But we are starting to see other shades of blue pop up in some displays, such as Tiffany Blue, resembling a light shade of teal or aqua coloring. This may reflect that spring and summer is coming, so there is a preference for lighter hues, but still not straying away from the blue palette that's been popular in the kitchen.
Another color to look for, dark red like maroon and crimson are appearing with half as frequency as dark blue in cabinet displays at the show.
New ways to depict two-tone cabinets
We've already seen in recent designs that the two-tone cabinets have been popular in the last half-year, breaking away from the all-white monochrome minimalistic kitchens from previous years. We're seeing a few more two-tone cabinet combinations at the trade show this year, and while the most popular is the white or cream colored cabinets at the top set of cabinets and a darker jeweled tone hue at the base, we are seeing different types of patterns for two-tones, including mixing surface patterns (which is not my jam, to each their own), but also different layouts of the two tones.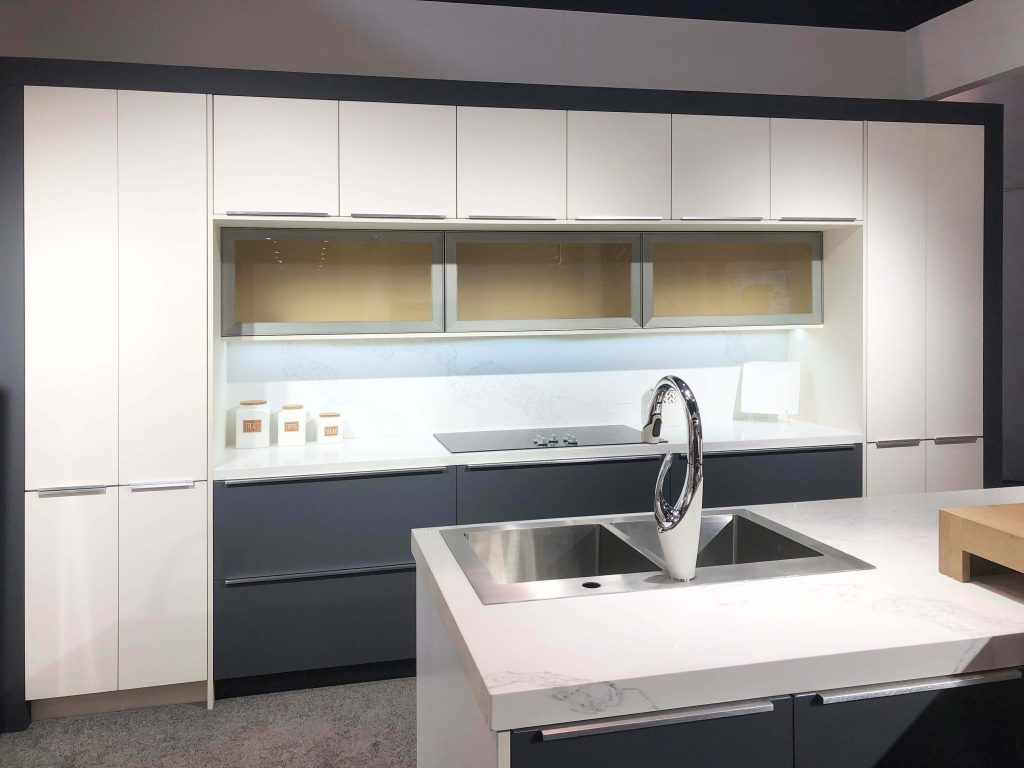 My favorite two-tone layout is one of the setups from Innocraft where the frame of the whole set of cabinets was a darker tone, framing the cream colors of the cabinet doors inside of it. It's like having a bold outline for your kitchen space and it's a different way to express minimal design.
Vertical storage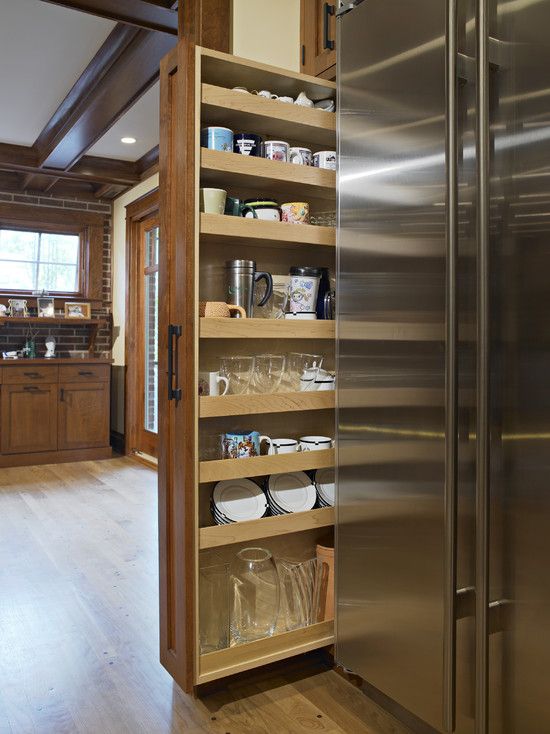 When we envision most kitchen drawers, they are horizontal and wide as they have been for hundreds of years ever since dresser drawers were crafted. But there were more displays of the vertical pantry drawers, creating a new way to store things that have been improved by the smooth easiness of the glide system. Certain places were very creative in their use of vertical drawers; one place treated it like a hidden panel where the only indicator that it was a vertical drawer was the handle that looked out of place. It was a fun pleasant surprise to open!
Walk-in closet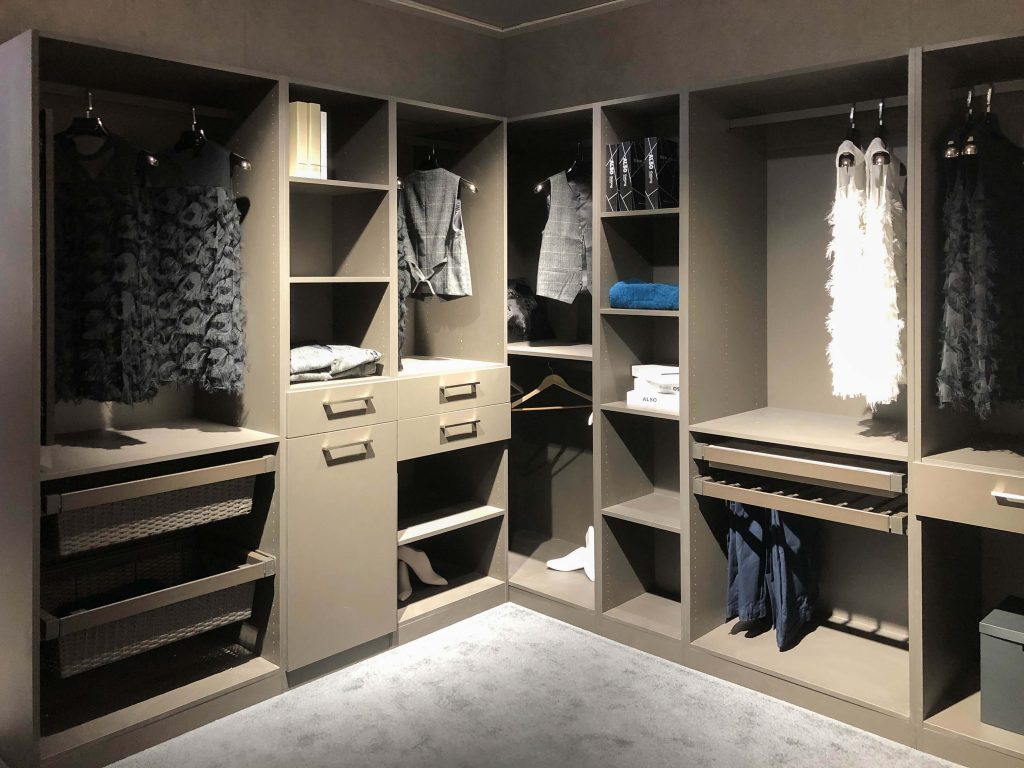 Popular in a few booths this year is not just covering cabinets for the kitchen or the bathroom, but for the walk-in closet. Very reminiscent and targeted towards the discerning customer, these are the types of cabinets and organizers that you see in luxury closets, that include large glass doors for wardrobes, slim horizontal dressers for jewelry and accessories, and customized shoe racks. This setup easily drives the imagination of anyone in the space, so much that these spaces are constantly crowded in booths.
There are hundreds of booths at the Design and Construction Week event, but I've traveled nearly 50,000 steps to find out which were some of the best cabinetry booths here at the Las Vegas Convention Center:
Top booths:
Fabuwood Cabinetry Corp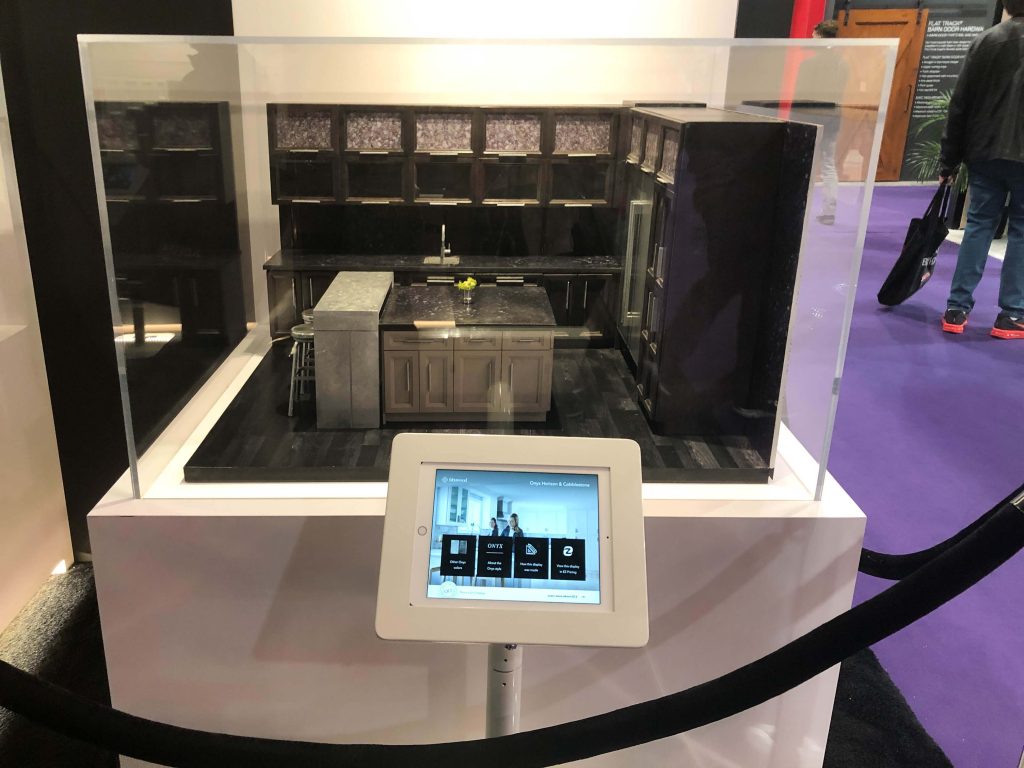 If there was ever a cabinet-related booth that decided as extra as it could be at this show, it would be Fabuwood. In the middle of the booth as twelve pillars explaining their Quality 12 or Q-12 standard looking like an homage to Stonehenge and Superman's Fortress of Solitude.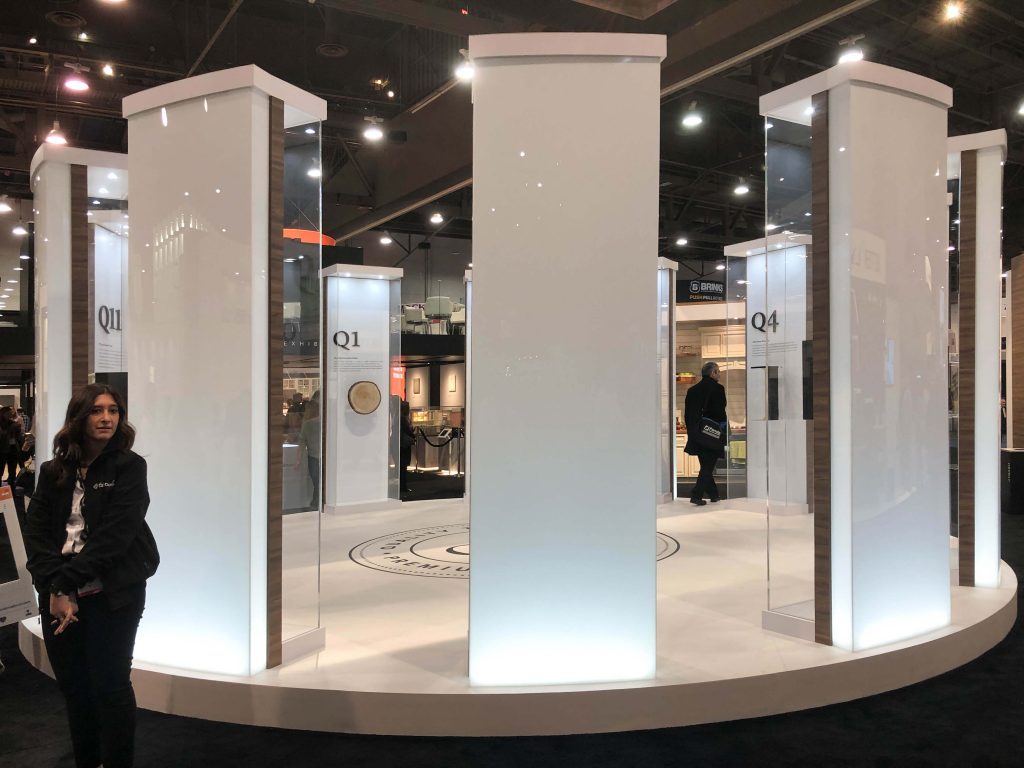 There were Instagram based motifs, even the cabinet displays had the motif of the names of the cabinet in the upper left. But the tule impressive displays were the small dollhouse size models of cabinets with a tablet to explore these tiny kitchen designs, which is an ingenious way to save space and display other types of cabinets.
FX Cabinets / Homega Design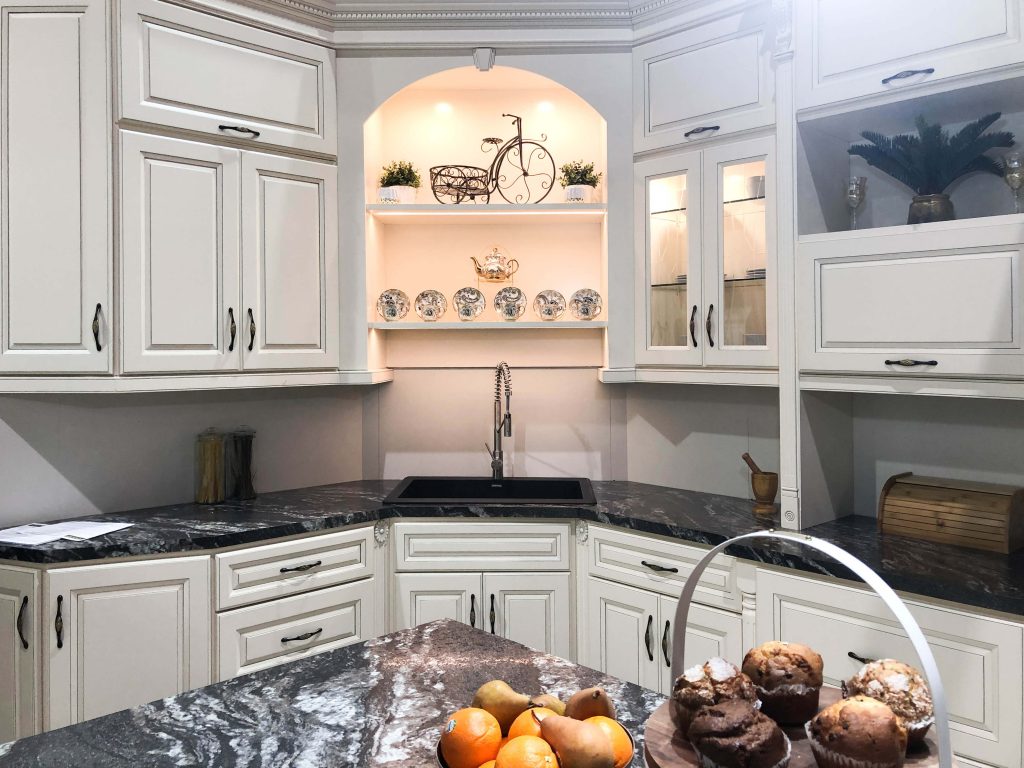 This booth has beautiful layouts of space and nicely designed sets. They weren't concentrating on just the cabinets, but how the cabinets relate to an entire theme as a whole. There's a corner with seeming random items in the booth until it was explained to me that these items in the cubbyholes of the display were an explanation of the actual history of woodworking in the company's history. My favorite cabinets were these pale yellow drawers and doors with skillful detailed cuts into the doors and drawers and that detailed lines along the surface.
Innocraft Cabinetry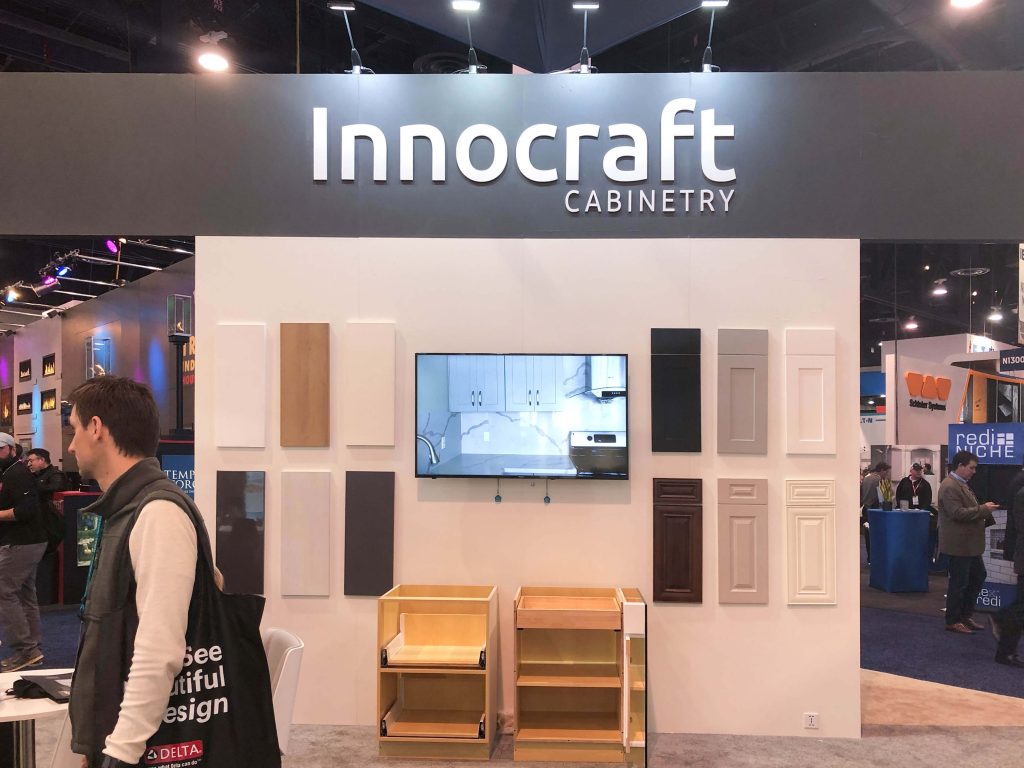 Of many of the booths, this one had a clean simplicity rather than trying to crowd as much things into the booth as possible. The one set of cabinets that caught my eye were the two-toned cabinets where a dark grey color makes a complete border around the cream cabinet doors, as the whole wall had a bold outline. The salespeople in the booth mentioned that the simple look grabbed the most attention in their booth.
J&K Cabinetry
Positioned closest to one of the openings in the South Hall of the Convention Center, J&K Cabinetry was difficult to miss. Their large booth allowed decorators to create entire rooms of which a cabinet was part of the entire aesthetic; these showrooms felt like  My hats off to the designer that created the dark cabinet with the gaming motif, being in Las Vegas, the dice knobs for the cabinet doors were a very nice touch. I'd even want that in my gaming room!
Golden Home Cabinetry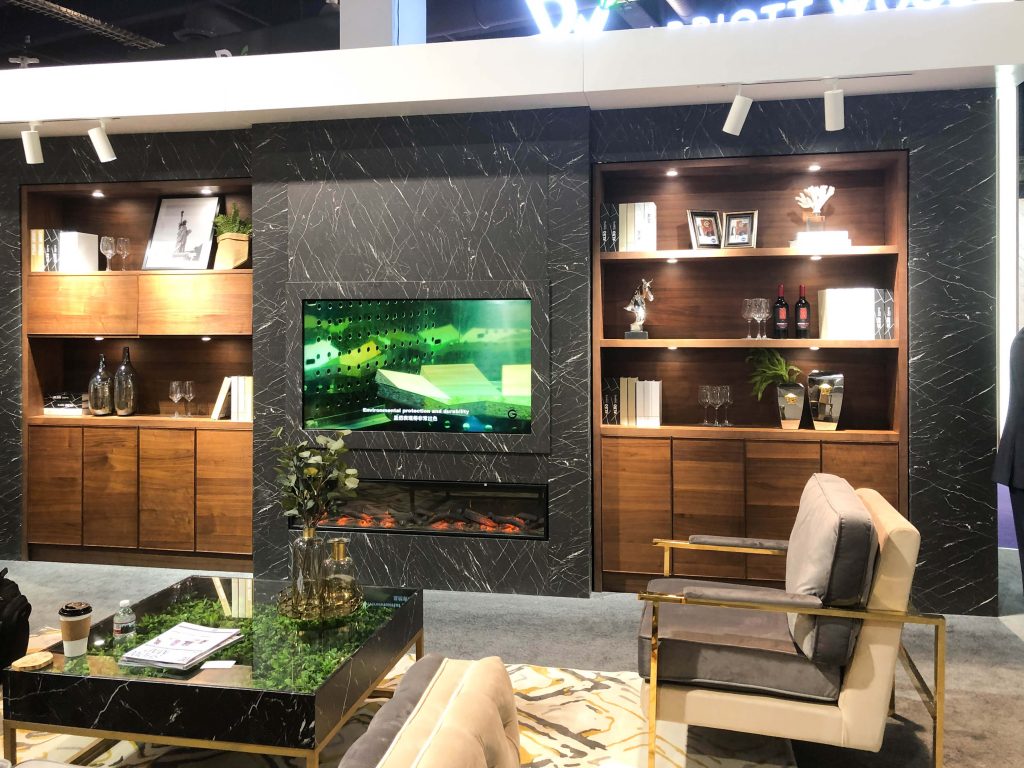 Golden Home Cabinetry had some nice offerings among their cabinets but what puts this company on this top booth list is what was in their layout: In the center was a nice Entertainment Center with a large screen television with comfy couches, also showing off cabinets as part of an active entertainment center and a layout of a walk-in closet where they got to display organizing solutions that involved cabinets and drawers. These kinds of displays are thoughtful and deserve recognition.
Plato Woodwork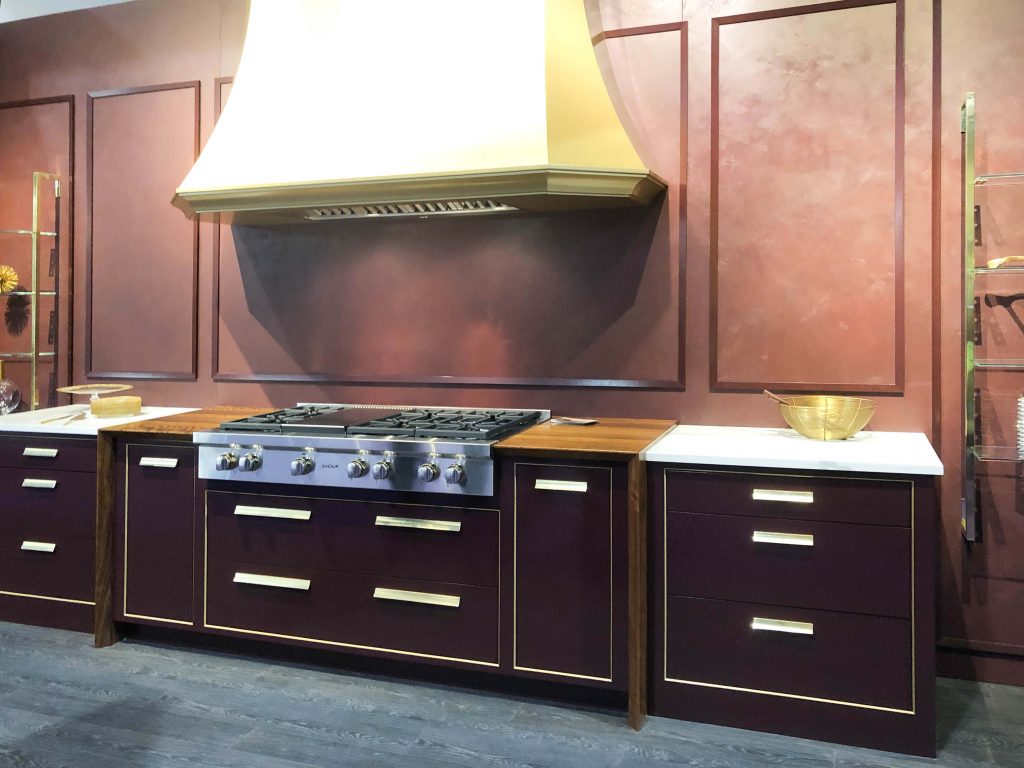 Plato Woodwork was constantly crowded and clearly marketed to a high-end audience. Each cabinet display was elegantly decorated with signs of good taste. One of my favorite details about their cabinet models was the how the doors were built to disappear into the sides instead of remaining as wings at either side of the open cabinet, which is a great space-saving technique. I also was impressed by the wooden herringbone pattern on one of the panels of the cabinets and that sheer attention to detail helped put that booth on this list.
Honorable Mentions:
Design Craft/Medallion/Yorktowne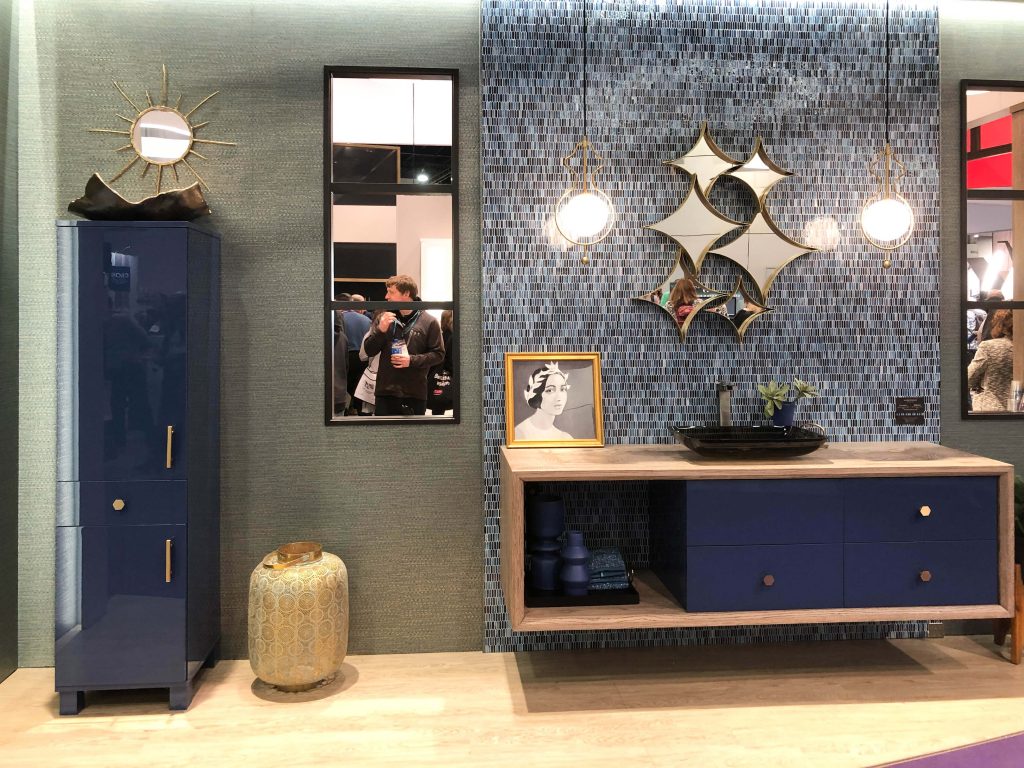 This conglomeration of booths had some of the most inspired colors and decor of their displays. This booth was willing to use unusual colors for wallpaper and accessories on the outside displays of their booth, showing how customizable their colors and options were for their cabinets.
Cabico Custom Cabinetry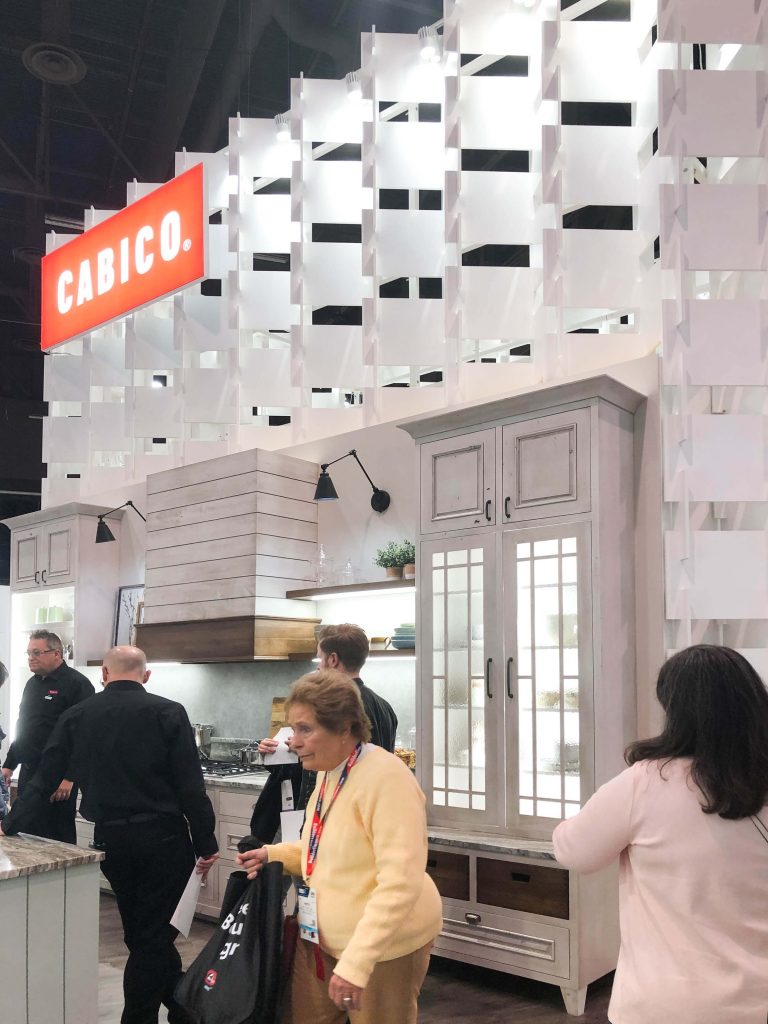 Probably among the tallest of all the cabinetry displays due to its sizeable tower that houses videos of how human hands craft these cabinets, this booth is putting far more emphasis on their story as a company before you even see the cabinets. It's a very interesting approach; since these cabinets are custom, they needed to do more than just show cabinets.
Wellborn Cabinet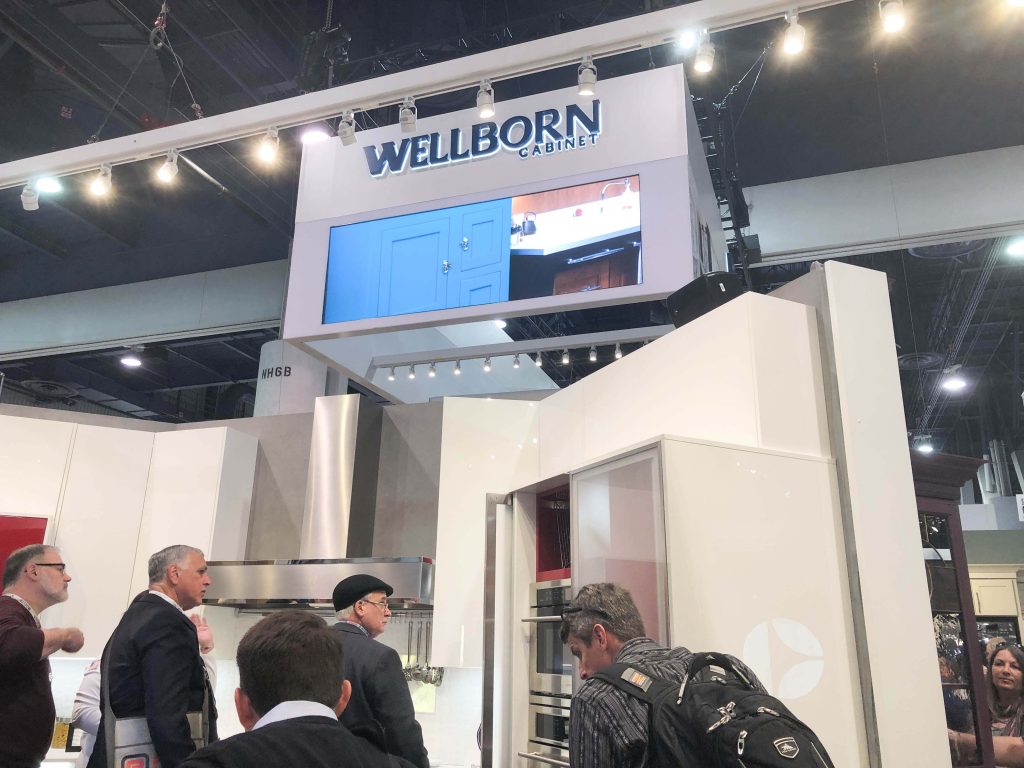 The fact that Wellborn was the only cabinet company with a four-sided digital screen promotional display near the ceiling was enough to get anyone to notice. Inside were many smaller cabinet displays so that they put in more and different types cabinets in a variety of settings and colors.
For all the different cabinet companies, I was asked which booth disappointed me the most. Unfortunately, that answer was very easy.

Dishonorable Mention:
Panda Kitchen and Bath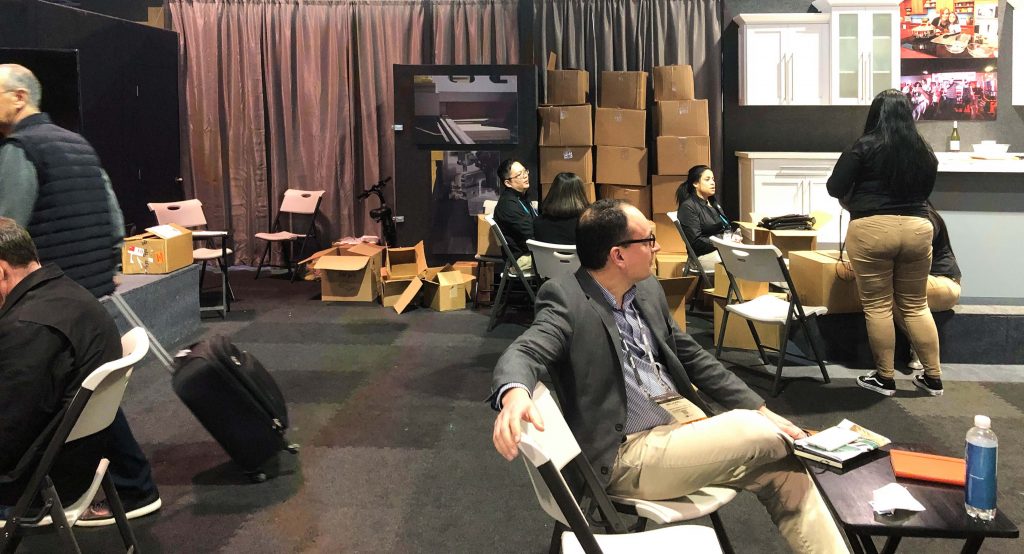 I have never seen such a large booth space put to such waste. In the entire booth, there were only TWO cabinets that were set up and they were put to the side, given no attention whatsoever. There was a palette of unwrapped stacked flatpacks in the center and at least four messy piles of cardboard box stacks. There were several television screens showing videos of things rather than cabinets. There were plenty of chairs scattered in various groups and litter. I hesitate to call things as they are, but the one word I used to describe them was "disgusting." They had no pride in being there and to be put near the doors was a wasted opportunity for them AND the attendees.
Now that I got that out of my system, let's get back to ending this on a better note!
These three days have been fun in seeing what's out there in home building and design with a lot of different inspirations and technology, thinking inside and outside the box when it comes to cabinets and the home. Hopefully, I will manage to get my hands on some of these new products on the market to test them out for you!
Related posts